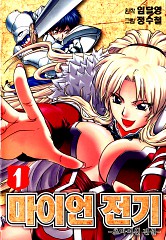 The Legend of Maian Volume 1 is an anthology collection of previously published chapters from the Chances monthly pulp manhwa magazine published by Haksan of the The Legend of Maian manhwa serial.
Volume 001
Edit
Original Korean edition
Title: 마이언 전기 1권
Imprint: Chance Comics
Publication date: 2007-08-15
Author as credited: 임달영
Illustrator as credited: 정수철
French edition
This volume contains 7 chapters.
External links
Edit
Ad blocker interference detected!
Wikia is a free-to-use site that makes money from advertising. We have a modified experience for viewers using ad blockers

Wikia is not accessible if you've made further modifications. Remove the custom ad blocker rule(s) and the page will load as expected.